Saturday July 7th at Arena di Verona starts the season of Charles Gounod's opera starring Romeo and Juliet, the story that made Verona famous around the world as the city of love and romance. Our residence a few steps from the historic center, is the ideal spot for sightseeing Verona (Unesco World Heritage site) and late watch this representation conducted by Fabio Mastrangelo and directed by Francesco Micheli. The show will be repeated 3 more times in the month of July as part of the 90th Verona Opera Festival.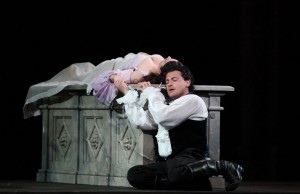 Roméo et Juliette
Conducted by:
 Fabio Mastrangelo
Directed by
: Francesco Micheli
Music
: Charles Gounod
Libretto
: Jules Barbier and Michel Carrè
Set designer
: Edoardo Sanchi
Costumes:
Silvia Aymonino
Choreography
: Nikos Lagousakos
Lighting designer
: Paolo Mazzon
Performers:
Juliette: Aleksandra Kurzak
Stéphano: Eufemia Tufano
Gertrude: Elena Traversi
Roméo: John Osborn
Tybalt: Francisco Corujo
Benvolio: Paolo Antognetti
Mercutio: Artur Rucinski
Pâris: Nicolò Ceriani
Grégorio: Dario Giorgelè
Capulet: Enrico Marrucci
Frère Laurent: Giorgio Giuseppini
Le duc de Vérone: Deyan Vatchkov
Organization and Info:
Arena di Verona Foundation
tel. +39 045 8005151
www.arena.it
Dates:
Saturday July 7th at 9.15 PM
Saturday July 14th at 9.15 PM
Saturday July 21th at 9.15 PM
Thursday July 26th at 9.15 PM
Prices:
Gold Stalls: € 139.00
Front Stalls: € 119.00
Stalls: € 89.00
Stonesteps Central Stalls: € 72.00
Stonesteps Central Stalls (Reduced): € 59.00
Stonesteps Stalls: € 59.00
Stonesteps Stalls (Reduced): € 49.00
Stonesteps zone D-E: € 19.00
Stonesteps zone D-E ridotto: € 16.00
Stonesteps zone C-F: € 17.00
Stonesteps zone C-F (Reduced): € 15.00
Reduced prices: up to 30 years, over 65 years, people with mobility problems and his guide.
Getting there:
The Arena is centrally located just 1 km from our residence, easily reached on foot through the old town.