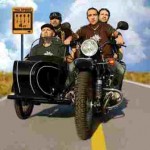 Sunday, June 17, 2012 at 9.30 PM at the Arsenale in Verona, a few minutes drive from our Residence, will host the event as part of the Sunday Monday Music Festival Impiria Theatre & Music. The Teaspoon Quartet will perform in a "traveling" from Old time music at the rag-time, from blue grass, blues, folk. A journey through time along routes and highways in places and among people who gave life to the American music they love. The music genres are various, mainly the Piedmont fingerstyle and Rag-Time, styles used in renovation of existing tracks.
Organization and info:
Teatro Impiria tel. 340 5926978
Entrance Price
Full: € 9,00
Reduced for those arriving by bike: € 7,00
Advance sales at La Galleria, via Cattaneo, 22.
Get to the event
A few minutes drive or 20 minute walk through the historic city center.