From Thursday 8th to Sunday, November 11th, 2012 will be held the annual Horse Fair in Verona. At the heart of the event, now in its 114th edition, the horse and its centuries-old relationship with man. After the triumph of the 2011 edition which saw over 115 000 visitors and an increase of exhibitors, of which 20% are foreigners, there is a great expectation for this year, as always, join sports, entertainment and exhibition in one place.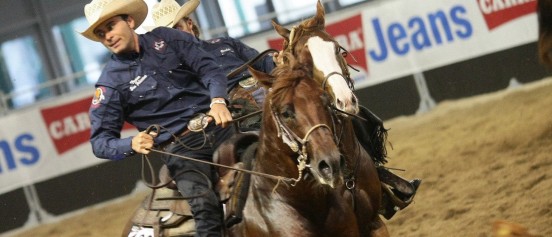 Space to sport
The "Jumping Verona" is about to cross the finish line of the twelve editions, the only Italian stop of the prestigious Rolex FEI World Cup™. The National Competition Pony celebrates its Silver Edition and the Regions Cup reaches its 37th edition, while the agreement with the FISE aims to broaden the competitive proposals with a focus on the disciplines that are currently missing in Verona.
Focus on festivals breeding
With the Italian Horse Fair, where the AIA (Italian Breeders Association) has more than 400 horses, products and organizations that associate themselves with the Italialleva, reserved for livestock production 100% Made in Italy. The activities of the Fair Arabian Horse as every year are organized in collaboration with ANICA (Italian National Association of Arabian Horse), while the absolute novelty of this edition is the prestigious entrance to the Hall of the Spanish Horse, to UAIPRE (Unification Italian Associations Pura Raza Española), the only Italian association officially recognized dall'ANCEE, who will coordinate contests, activities and events dedicated to the Spanish race. The morphology is still discipline prince Fieracavalli that every year has scheduled several international competitions for the best specimens of Arabian horses, Spanish, Criolli, Frisians, Paint, Quarter, Appaloosa. The spotlight is also on the western world which will enhance the competition calendar.
Competitions, talent shows and equestrian events
After the success of last year will return competitions, talent shows and equestrian events to animate the four-day event in Verona: "Talent and horses", "One click out of the ring" and the evening show that the last year has sold out and he'll be back in a new guise. In the Village of the Child, one of the most popular destinations from their families, as well as the initiative for schools, "A horse is your friend" the schedule of entertainment fun-learning is becoming more rich and full of events.
How to get
The Verona Fair is 3 km from our residence. It can be reached by car, parking at the "ex Mercato Ortofrutticolo" (fee), or by public transport (bus No. 72 to the train station "Porta Nuova", so the shuttle to the fair).